You may have heard of this new game that just came out. It's called DEFIANCE (DEFI for the short hand). You may have even read my first diary entry of Ark Hunting. Don't worry, I'm not here for the next chapter. I'm here to talk about the game as a whole so you can all know about it. Now, MMORPG, our sister site, is writing about this game from the MMO perspective. I'm going to try and I mean try, to keep it to a 100% third person shooter perspective. The reason I do this is because why not focus on the shooter elements on a shooter site, right? You can look at this as just a persistant TPS with a bunch of other people and a story that's actually pretty good.
This is going to be part one of a few articles. For the next week or so we're going to go over the pillars of Defiance, as we are in this article. Please stay tuned, it's gonna be a good ride.
So what is DEFIANCE?
Defiance is a new third person shooter (TPS) developed by Trion Worlds. Trion made a little MMO called RIFT and was working on End of Nations until they moved the entire team over to this game. This one entirely centers around you as the main honcho. You are an "Ark Hunter". Ark Hunters are specialists in survival, combat and tracking. You will brave dangerous frontiers to locate and retrieve lost relics of alien or advanced origins. This will bring you great success in your finances. Think of yourself as a glorified Bounty Hunter.
Everyone is looking for the Arktech, the lost relics we talked about. People are more than willing to pay for the services of someone who's great at the job, as well as willing to go where others are not. Contracts can be signed and offered by many different houses. Most of the time you will be working alone, but there are just some things that you're going to need a buddy or three.
The world takes place in a destroyed San Francisco Bay Area, for now. There was a massive world-wide terraforming event that led to this. Plants and the animals we once knew are now gone and new species are rising. Aliens, collectively known as Votans, have come to Earth seeking a new home after their solar system was destroyed. When they landed in 2013, eerie right, they thought that our planet was uninhabited. Get ready for this one, shockingly, they were wrong. After discovering the Votans and vice-versa hostility and suspicion broke out.
The Ark Hunter
Race
At this moment you can be either a Human or Irathient, one of the 7 Votan races.
They plan to add more races to the game in future DLC and patches.
Origin
This does not matter in the end as there aren't classes. Whatever you choose will be your backstory, starting outfit, and your starting weapon. Every Origin can use any weapon and learn any EGO power.
Veteran

After the Battle of Defiance inspired the end oto the pale Wars, many soldiers were left trying to find a new identity on this new Earth. Their combat experience, not to mention innate need for that adrenaline rush, made ark hunting a perfect career path for these men and women
Weapon: Assult Rifle
Outfit: Infantry Veteran

Survivalist

Not all Humand and Votans were invested in the war. Some found themselves on the fringes of society, living solely off the newly terraformed Earth. After Armistice, a handful of these survivalists found that their explorative talents made them impeccable Ark Hunters.
Weapon: Survivalist's Rifle
Outfit: City Survivalist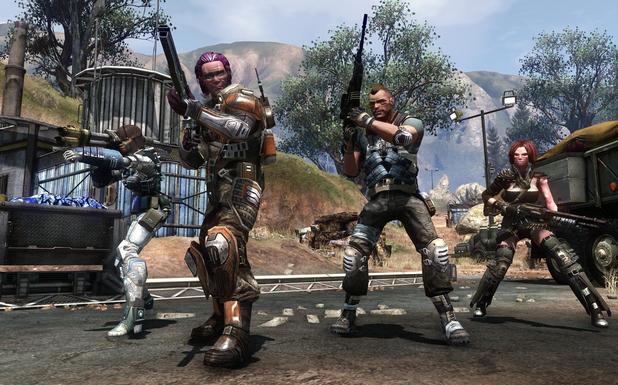 Outlaw

For many trying to survive the violent post-Arkfall world, criminal activity wasn't a choice, but a necessity. As the Earth Republic and the Votanic Collective helped society regain its footing, finding legitimacy became imperative for these outlaws. The gritty, and sometimes unethical, life of an Ark Hunter was the ideal fit.
Weapon: Frontier Auto-Scattergun (shotgun)
Outfit: Underworld Outlaw

Machinist

After the Defiance movement led to Armistice, the factories of war shut down, leaving many skilled Human and Votan machinists adrift. Some became cityscape scavangers, hocking their makeshift wares at the markets, while the elite foragers were able to graduate to the much more profitable vocation of ark hunting.
Weapon: Machinist's Gun (LMG)
Outfit: Scrapyard Machinist
EGO – Environmental Guardian Online
Every Ark Hunter is injected with this symbiotic neuro-musclar bionetic implant by Von Bach Industries. This will help you find missions as well as navigate the Bay Area and some unique abilities.
Blur

Boosts movement speed. While active, your melee attacks deal full damage against shields.
This is perfect for people who want to run in melee and shoot some people up. People who want to run away and be babies can use this too, but probably shouldn't.
Pair this up with a shotgun, like I am, and get ready. Charge in, destroy their shield and then pop them full of bullets with your shotty.

Cloak

Makes you invisible to enemies. Cloaking activates immediate shield regeneration.
This is for you sniper and rogue folks.
Pair this up with anything really. This all depends on how you want to play the game. I've seen people using it to get out of sticky situations as well as just sneaking into the perfect spot to get the sniper scope right on their heads.

Decoy

Sends out a mirror image of you. Press the EGO button again to swap places with the decoy.
If you are in a tough spot or just want to sneak around, use this.
When you send out the decoy, the enemies in the area will assume it's you and start fireing on it. When it stops walking, they figure it out, and you better either be shooting them or out of the vacinity

Overcharge

Increase weapon damage and reduces recoil. When activated, instantly reloads your current weapon.
This is for the tanks, the damage dealers and the people who just wanna blow through a Mini-boss.
There's not much more to say, it's pretty spot on.
Vehicles "Sponsored by DODGE"
Like I said, the world is really big and destroyed. Unless you want to be pressing the "shift" key to keep running everywhere you're going to want a vehicle. Wouldn't you know it, they give you your first ATV right after the first real story mission.
There are many vehicles in the game and you can have as many as you want. Just remember to "equip" the one that you want to use at the time. When you read "Sponsored by DODGE" just above this, you may be wondering what I mean. I mean that a lot of the vehicles in this game are DODGE vehicles. Pretty weird, but pretty cool. Apparently Chevy and BMW didn't make it through the Terraforming.
If you are grouped up with anyone, when it's fixed, you are actually able to sit in the car while your buddy drives. That makes it very nice for 4 people, max party size, to get around at one time. Sure it would look badass with four of you driving in a V formation with your ATV's, and you're going to have to until someone gets a car that can hold more than one person.
Gameplay
Exactly what you would expect from a shooter. This is where it's going to get tricky to say things that aren't so MMO and more TPS. The best way to describe this is a 3rd person baby Borderlands. Tons of weapons, tons of shields, tons of grenades and some special powers. Aim-Assist is turned on by default for the console players. If you're playing this on PC, MAKE SURE TO TURN IT OFF! Grenades ark just as you think they would. And the farther away you are the more difficult it is to hit the target as well as damage them with a shotgun. The fundamentals of any shooter are here and that's exactly what we wanted to see. If there would have been a flaw of some kind in that, the game would be torn a new one.
This is where I have to touch on something on the MMO aspect. There is no "armor". Most MMO's have gloves/boots/helmets/chest/pants/etc... but this one does not. They took the Borderlands approach with a shield and I like it. All of the "outfits" are cosmetic; same with helmets. I think this keeps balance, in PvE and PvP. Almost forgot to mention, there are both PvE and PvP outfits.
Quick Little Rant
There is something I have to say about gameplay that is "irking" people. Don't look at this as an "MMOTPS" look at this as a "really really big consistent shooter with a story line that matters and gives me a reason to continue to play the same character but not have the same experiences of four different maps that are on a loop in the 'Team Deathmatch' lobby"
If you want to compare this to something, it needs to be PlanetSide 2, period. PlanetSide 2 is an MMOFPS that is literally only an MMO because it's always online. There are massive amounts of people and it gives you stuff for playing the same character for so long. Don't compare this to "RIFT" or "Guild Wars 2" or anything of that nature. People that are doing that because Trion Worlds made RIFT are seriously aggravating me. You don't look at PlanetSide 2 as an MMO; you look at it as an FPS. The same needs to be done with Defiance, but TPS.
The End of the First Day
Well, that's a lot of information to take in at once isn't it? We'll end it here for now. Monday, I'll have another diary entry so you can see what it's like in the life of an Ark Hunter. Next Wednesday come back so we can talk about PvP and more of the PvE stuff you can do in the world.
I hope that this article helped give you a little insight on the game. There are mixed reviews going on everywhere about this. The #1 thing I see is that it's being looked at too much like an MMO and not enough like a TPS. I'm not going to stand for that. FPS Guru will be the website to come and look at this game.